1. Raise tongue using jack
2. Chock both wheels, front and back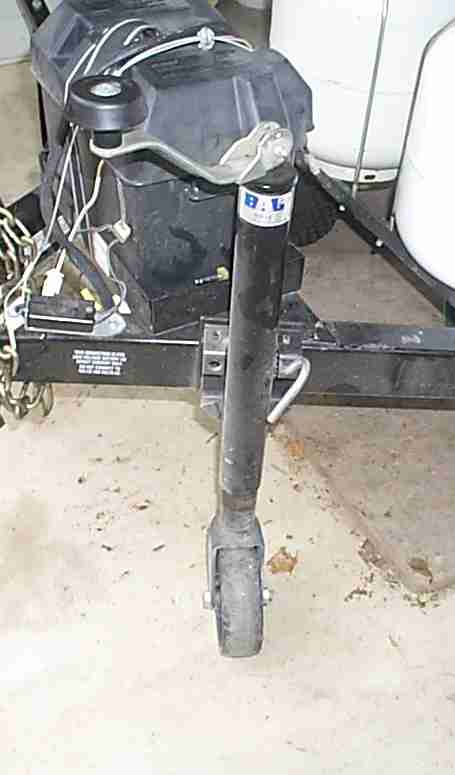 3. Support tongue with an appropriate device. You could use a trailer dolly or 15"-16" long piece of 4x4.
4. Release locking pin to tilt jack assembly to approximately 45 degrees toward traveling position.
5. Raise jack until it is fully extended.
6. Remove bolt securing crank to jack using a 7/16" socket and box end wrench and remove crank.
7. Slide lower jack assembly out of upper housing
8. Remove thrust bearing and thrust washer (located at top end of the threaded rod assembly in the bottom picture)
9. Clean thrust bearing and thrust washer. You may find it easier to use a parts cleaning solution which is available in small containers at most auto parts stores. If necessary, replace the thrust washer and seal.
11. Repack thrust bearing with wheel bearing grease.
12. Clean screw.
13. Lubricate screw with wheel bearing grease, ¼" wide ribbon on one side of screw for entire length of screw.
14. Place thrust washer back on assembly
15. Place thrust bearing on top of thrust washer.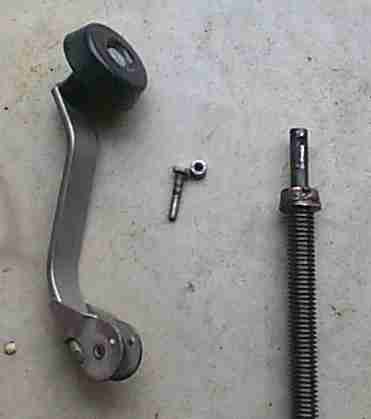 16. Slide assembly back into upper jack housing.
17. Install crank and bolt.
18. Fully retract jack.
19. Orient jack to the vertical position
20. Raise jack to fully extended position.
21. Remove 4x4 block.
22. Lower jack to fully retracted position