I have seen a lot of discussion over the beds supplied with most pop up campers. Like most, ours left a little to be desired in the comfort area as it is basically a few inches of foam covered with a quilted, padded case.
We decided to add a little more padding to increase the comfort. The photos at the bottom of this page show the lengths we were willing to go to to achieve a comfortable nights sleep.
We finally decided to try an Aero Bed Sport (renamed minute bed sport). This is basically a heavy duty air bed. Purchased in the Queen size, we discovered it fit between the bed end poles on our Fleetwood Folding Trailer(FFT). With you head/feed side to side it provides a queen sized mattress. As out FFT mattress is their "King sized", we have a strip of about 8 inches that is not covered. While it sounds silly to loose bunk space, we divide this "lost space" between the front, where you would not be able to sleep against the canvas anyway and the camper side where it gives a small area not raised so Natasha can jump up easily. With a sheet on the stock mattress (under out Aero Bed) it looks fine. After two seasons it has developed a very slow leak, so that it is slightly soft in the morning, but still comfortable. It comes with a rechargeable inflator pump.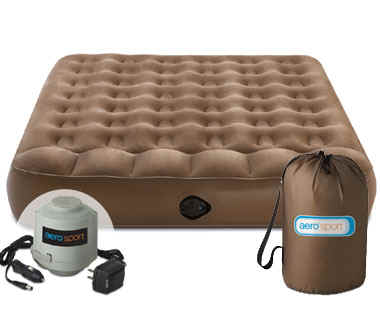 Our old system is detailed below.
All photos on this page are thumbnails, click to see an enlarged version