General Information
**********************************************
What is a Pop-Up Camper?
A pop-up camper, which is also known as a folding camping trailer is a lightweight camper with collapsible (usually canvas material) sides that fold for aerodynamic towing by a motorized vehicle. When set up, they provide cooking, dining and sleeping facilities for up to eight people.
**********************************************
Why We Camp!
"You know - it just hit me that we popup kind of folks (regardless of brand) are the front porch sitting kinda of people! That old fashioned art of sitting outside under the veranda is almost unheard of today and camping in our popups gives us that kind of feeling all over again! You can sit outside and watch the world go by and the kids can play while you relax. "Neighbors" drop by or wave a nice hello or nod and wish you a good morning or evening while they stroll the campground. The aroma of food cooking and the campfires burning remind us of picnics and old fashion fun. Listening to the laughter of friends and children brings us back to a place when times were less frightful and more serene. I love the fact that my popup has nothing to draw me inside but has everything to offer for keeping me outside and having fun and when it's time to turn in - a soft bed and fresh sheets are the icing on the cake!"
Linda
CamperJones
I think Linda said it best! Linda is the founder of the Florida Popup Campers. Visit her at their web site.
**********************************************
Do you really camp with a German Shepherd Dog?
YES! We take her everywhere with us. She travels well in the pick up and is comfortable in the pop-up. One of the factors we use in selecting our camping destinations is if they allow pets. Many campgrounds do not accept pets of any kind, some accept pets up to a certain size while others have no limitations at all. Common courtesy demands that you make sure your pet does nothing to disturb other campers. Barking, running wild or bothering others in any way is not acceptable. You should always walk your dog away from others campsites and clean up after your pet! Many campgrounds which allow pets supply bags to clean up the waste, but you should have our own on hand in case they don't. Check out my Camping With Your Dog page.

**********************************************
What are some sources of Pop-Up camping information?
1. Subscribe to Pop Up Times, the magazine for pop up campers.
2. Participate in Internet Message Boards.
3. Your manufacturers web site. I have links HERE.
4. Other net resources such as rec.outdoors.rv-travel and rec.outdoors.camping USENET newsgroups. You can find the Wes Fujii FAQ there.
**********************************************
What can you tell me about (insert brand name here)?
Through the years there have been many companies manufacturing folding trailers (pop ups ect.) Some are still in business and can be found on my Manufacturer Links Page. Others have changed names, some have been bought out and others have just gone out of business. The most comprehensive list of manufacturers I have seen can be found on this website:
RV Model/Manufacturers: Pop-Ups
**********************************************
OK, I signed up for the message board and it seems they are speaking a foreign language. What the heck do all of these things mean (DH, DW, ROTFLOL, PU, CG?
This is a kind of internet shorthand. You can check out my message board shorthand page for more information.
**********************************************
Can I deduct my RV loan interest from my taxes?
First of all, I am not a tax professional, I don't even play one on TV. Take all advice you get over the internet with a grain of salt.

Now, if we look at IRS Publication 936 - Home Mortgage Interest Deduction you will find what qualifies.

It states: "For you to take a home mortgage interest deduction, your debt must be secured by a qualified home. This means your main home or your second home. A home includes a house, condominium, cooperative, mobile home, house trailer, boat, or similar property that has sleeping, cooking, and toilet facilities."

As with many laws and regulations, there is no further definition of "sleeping, cooking, and toilet facilities". This is left up to you as to what you feel comfortable claiming, if audited what the IRS auditor believes and previous tax court rulings on this definition.

I do know that many folks with boats claim the second house deduction for boats with porta pottis. The other key word is "secured". Again, from the IRS Publication 936 - Home Mortgage Interest Deduction the definition of secured debt is: "your mortgage is a secured debt if you put your home up as collateral to protect the interests of the lender. If you cannot pay the debt, your home can then serve as payment to the lender to satisfy (pay) the debt." So, the pop up MUST be collateral for the loan and it must be at risk if you don't pay the loan.
Again, talk to your tax professional about this issue - don't just take my word for it!
Pre-Purchase Information
**********************************************
How much can I expect to get off of the retail price?
Buying a pop up is just like buying a car. Many factors are involved it the deal you get:
Time of year (end of season vs. beginning of season), area of the country, number of units on the dealers lot and how popular is the model you are looking at are very common factors.

Additionally, how good are you at dealing. You are going to get the best deal if you are armed with information. Visit as many dealers as you can. better still is visiting an RV show. Many deals are offered at shows, $.01 air conditioning, free decor packs, potti tents are a few I have seen.
Decide on the make/model you want (and can realistically tow) then decide on what options. Once you have the specific make model and options begin playing one dealer against the other. Some areas of the country may have fewer dealers for specific makes so it can be more difficult. Armed with the knowledge of specifically what you want will stop a dealer from steering you to something they have on the lot that may not work for your situation.
**********************************************
What is the most important aspect of buying a new pop-up camper?
By far, choosing the dealer is probably the most difficult, but most important, decision a prospective popup buyer has to make! A good dealer will make your ownership wonderful. A poor dealer will make it a living He**. Choose wisely, you will be dealing with them a lot through the years.
**********************************************
What should I look at in a used pop-up camper?
You can save lots of money buying your pop-up used rather than new. Be aware that as this is a large investment you need to make sure that the unit is in good condition. I have a page devoted to Purchasing a Used Pop-Up.
**********************************************
I am looking for a new (used) pop-up, do I need a brakes?
The "legal" need for brakes is different for each and every state. Once purchased and registered, your home state rules will apply while you travel. If the state you are registered in does NOT require brakes for your weight trailer, then no state you travel through can require them of you (unless you move to that state and attempt to register it there.) With that said, I would NOT pull a pop up without brakes! With today's smaller vehicles trying to pull ever larger trailers brakes are a necessity (even if your state does not require them). If they are an option on your trailer (Coleman has now made them standard equipment), buy them! For more information go the the Pop Up Brakes Page.
**********************************************
I am looking for a new (used) pop-up, do I need a battery?
That depends on a couple of factors, like does your pop-up have electric brakes and where you are going to camp. If your pop-up has electric brakes, yes you need a battery in order for the break away switch to work correctly. Should your pop-up inadvertently disconnect from the tow vehicle while towing, the break away switch will engage the trailer brakes to stop it. That is provided you have a battery on the pop-up to power the brakes. See how that works. As to the second issue, if you are only going to camp in campgrounds that provide electric service at the campsite, a battery is not needed. But should you decide to dry camp, you will need a battery to power such items as the interior lights (fuel lanterns are not recommended for use in a pop-up), water pump, heater blower, or radio. Many other neat 12 volt electric options are also available. Mark Nemeth has a great website where he describes "the 12 volt side of life". Additionally, the connector between the tow vehicle and the pop-up must be wired to charge the battery, check out Lee's Electrical Tips page for more information.
**********************************************
What type of battery I should get to provide the 12v power for my Pop-Up?
A deep cycle (not marine) battery. These come in several sizes, known as groups. The most common sizes used are group 24 and group 27. Group 24 has less capacity than a group 27 (almost always; there may be exceptions). The size you need will depend on what electrical items you run, how long you camp for and how big your battery tray is. In addition to the group size, there are many types of batteries (starting, marine/starting, deep cycle and so on. The best type for RV usage is a deep cycle battery. On our Santa Fe we had 2 12v DC batteries installed ( a group 24 and a group 27). On the Niagara I decided to go with twin 6v golf cart batteries. You can see both setups on my battery page.
If you don't have a furnace, only camp weekends, and don't leave the lights on all night, a group 24 deep cycle battery will probably be fine. If you run the a furnace a lot, or want to run for 4 or 5 days, you may need a group 27 or multiple batteries. For extreme electrical needs, some campers have resorted to installing dual 6 volt golf cart batteries (in series to provide 12v) which will provide more than single 12v batteries. Again, Mark Nemeth has a great website where he describes "the 12 volt side of life".
**********************************************
I am looking for a new (used) pop-up, do I need an air conditioner?
This is a personal choice comfort item. Depending on where you live it may be unnecessary to have one, or it may almost be a necessity. Pop-Up campers in the northern states or Canada may not need an air conditioner, but a Texas or Florida camper would probably look strangely at any one with out AC. Even living in the Maryland and camping in the Mid-Atlantic area I am glad I got an air conditioner. An item to keep in mind is that a pop-up has very little (OK, none) insulation. If you are going to camp in an open area during summer months you may want to think about covering the bed ends with a reflective covering (like reflectix) while camping. This will reduce the interior heat and allow your AC to work more efficiently.
**********************************************
This is a supplemental source of heat provided by a resistance element inside the A/C unit. Basically it is a strip of wire that heats up when electricity is applied. These will generally take the chill off of your pop up, but should not be counted on as your only heat source in cold climates.
**********************************************
Does the Air Conditioner require maintenance?
The only things you really need to worry about with the air conditioning unit is where the condensation water will run off to and remembering to clean the filter. When you set up your pop up and you are planning to use your air conditioner, try to set up the unit so the rear (street side) is slightly lower than the front. This will allow gravity to work for you and cause any condensation to run off the rear of the pop up. Remember to clean your A/C filter on a regular basis.
**********************************************
Why does water flow off the roof when I use my A/C?
The water is condensation and it is a common problem. Most folks take this into account when leveling so that the rear/back side is the lowest point so that the water will flow off the back, out of the living areas. Some have even gone so far as to make little gutters out of PVC pipe to direct the flow into buckets.
**********************************************
I am looking for a new (used) pop-up, do I need a heater/furnace?
Like an air conditioner, a heater/furnace is a personal choice comfort item. Heaters used by pop-up campers can either be a factory installed LP Gas fired furnace or electric "space" heaters. If using anything other than a factory installed heater be aware of dangers which may include fire and/or carbon monoxide gas. Factory LP gas furnaces have an outside vent, so assuming it's operating properly, there's little danger of CO poisoning.
While some campers put their campers away for the winter, we use ours well into December and start the new camping season as early as March. A working furnace keeps the pop-up toasty warm on those cold winter nights.
**********************************************
I am looking for a new (used) pop-up, do I need a refrigerator?
This is one of those personal preference items. Many pop-up owners are happy to use coolers for all their food items. I find it easier to use the refrigerator for reusable items (mustard, mayo, milk, OJ, eggs, dressings...) and to use a cooler for drinks. It is a very nice option, but it is just that optional. Ask around then consider your lifestyle before making this decision. Remember if you get one, it needs some power source to work. Most RV refrigerators a 3-way, meaning they can be powered by 12v electric (battery), 110v electric (household current), or LP gas. For more information on RV refrigerators, check out my Pop Up Refrigerator page.
**********************************************
What is a 3-way refrigerator?
A three way refrigerator will run on one of three power sources; 1. 110v AC (shore power) 2. 12v DC (vehicle power) 3. LP Gas. Generally the 12v DC is only used to maintain the temperature inside the refrigerator while traveling as it will deplete a pop up battery within a few hours. For long term use it should be powered by either 110v AC or LP Gas. Most folks tell me, as well as my experience is that it will stay colder using LP Gas.
**********************************************
What is Coleman Roof Sag?
Sag is a condition which appears in some Coleman ABS roofs (these are the formed white plastic roofs) where the roof begins to droop down in the center.
Depending on who you listen to, the condition first appeared with the first ABS roofs in 1996. According to Coleman, the problem has been corrected, but many still report problems which can be attributed to a similar condition.
The problem is compounded in Coleman's refusal to extend warranty coverage to anyone other than the original owner. Many people are angry because they, as a second owner have a problem with their roof and no warranty coverage.
Again, according to who is speaking, a roof replacement is anywhere from $1,500 - $3,000.
This condition does NOT effect Destiny series models which have an aluminum roof, only the 1996 and later ABS roofs.
Fleetwood Folding Trailers (Coleman brand) did have an open letter to owners on the web, but it seems that have removed it in their new web reconfiguration.
NOTE: For the 2003 1/2 (yup that's 2003 & a half) Coleman replaced the ABS roof with an "AlumaTite" Krystal Kote composite roof which has an aluminum outer skin. Only time will tell if there will be problems with this roof, but the ones I have personally seen look good. Additionally, they have a built in track system for adding roof rack components.
You can read my entire Roof Story Here
**********************************************
I am looking for a new (used) pop-up, do I need a porta-potti?
First, for those who don't know the term, "Porta-Potti" is the name of a self contained toilet system manufactured by Thetford. This is a personal comfort choice. They are very nice to avoid those late night runs to the bath house to heed the call of nature, or to avoid going out in the dark when dry camping to dig a hole. You can take a look at mine on my potti page.
**********************************************
Where should I get insurance?
Insurance is different in every state and province and you should only take advice on coverage from a licensed professional in your local area. No two individual cases are alike and therefore should not be compared to each other. If your state licenses independent brokers, I would suggest speaking to one of them as they are not employed by any insurance company and usually have the broadest range of experience. Do not avoid this issue, while your auto policy MAY cover the trailer while towing, any damage to the camper, theft from the camper or injuries to persons visiting the camper may not be covered. We have our auto and homeowners insurance with the same company, so adding coverage for the camper was easy and relatively inexpensive.
Towing Information
**********************************************
What type of hitch should I use?
There are several different styles of hitches to choose from and a lot will depend on the tow vehicle/trailer combination you plan to tow. Many of today's pick up trucks and SUV's come equipped with a step bumper that is drilled to allow the installation of a tow ball. Other styles include a clamp on bumper hitch and then a receiver/draw bar combination. The receiver/draw bar combination is the way to go for most people because it allow for the greatest capacities and it is customizable (by using drop or rise drawbars) to allow the trailer to be towed level. Be sure that which ever type hitch you decide to use that several factors are met: 1. All components of the hitch have sufficient weight capacity for the trailer you plan to tow; 2. When towing, the trailer is towed in a level position; 3. Safety chains are used and there is a proper location on the tow vehicle to attach them. See the Towing and Hitch Information page.
**********************************************
Can I tow with a bumper hitch?
To accurately answer this question you need a little more information such as the weight of the trailer, the tongue weight of the trailer and the load ratings of the bumper hitch. When connected, the pop up should be towed in a level condition, meaning that both the tongue and rear bumper should be equal distance from the road surface. It is not uncommon for bumper hitches to cause the trailer to be towed in a tongue high condition which may result in damage to the rear of the pop up as it bottoms out as you enter and exit driveways.
If you are talking about a stock bumper that has a hole in it for a tow ball, check the vehicle owners manual for the ratings, or they may be stamped in the top of the bumper.
If you are talking about a hitch that clamps on the bumper, check its load ratings.
While I am not a great fan of clamp on hitches, as long as you are within the ratings and it tows level it should work. Thousands of people have pulled U-Haul trailers with clamp on hitches
**********************************************
What are safety chains?
During normal towing you should have 2 chains connected between the pop up and the tow vehicle. When towing the chains should be attached to the tow vehicle frame (or other point provided for that purpose on the hitch) and the trailer "A" frame. In the rare occurrence of separation of the pop up from the tow vehicle, the chains will keep the pop up connected to the tow vehicle. The chains should be crossed over each other in an "X" pattern below the tow ball. This will prevent the trailer tongue from dropping to the pavement and digging in by allowing the chains to "cradle" the trailer tongue should separation occur and allow the driver to stop the rig safely. When connected properly, the chains should be sufficiently long as not to interfere with normal operation of the rig during turns, but not so long as to drag on the ground. The should be equipped with a mechanism to easily connect/disconnect them to the tow vehicle. While "S" hooks are used by many people other other alternatives that positively close and stay that way are available. The chain used should be of a sufficient strength to support the weight of the trailer and should be replaced if any signs of damage are noted.
**********************************************
Where should I go to get a hitch?
You can get a hitch installed at many locations, the RV dealer, your auto dealer, a custom hitch shop or even locations like U-Haul. We had ours included in the package for the pop-up. Remember to have them take care of everything including any necessary wiring. Will you be getting electric brakes? If so remember to get a brake controller and associated wiring. Will you have a battery or 12v refrigerator? If so get a charge line installed from the vehicle battery to the connector. With brakes and charge line you will be getting a 6 or 7 pin round connector.
**********************************************
What speed should I tow at?
Most states have a reduced speed limit for vehicles towing trailers. Verify the towing speed in any state you are going to tow in. On line resources like the RV Safety State by State Towing Laws are available, but may not be accurate. If in doubt verify the speeds with the state Department of Motor Vehicles or Highway Patrol.
1) Remember that if you have to ask how fast to tow, you are a beginner at towing. That is not meant as a put-down, we were all beginners at one time, and I find that I return to beginner status for the first hour or so of towing each spring.
2) If you are a beginner, you have to learn to be especially aware of what is going on around you, including behind you. If you are traveling on local roads (single lane) and a line of cars begins building up behind you, think about pulling over to allow them to pass...but don't let anyone (including impatient spouses) talk, push, or pressure you into driving faster than you feel you can safely drive. If they must go faster, give them the wheel.
3) Remember that you take more space when changing lanes...as much as 2-3 times as much space. When driving just the van, I can change lanes when I can see the other guy's headlights in the rearview mirror. With the trailer, that just about guarantees an accident. I have to allow a lot more space behind me, and it can be difficult to judge.
4) Remember that you need to take corners towards the outside edge of the lane. The trailer will follow the turn inside of the van's track. (If taking a right turn, the trailer will track further right than the van. If taking a left, the trailer will track further left than the van.) In addition, with most setups, the trailer is wider than the tow vehicle to begin with, so just because the van fits doesn't mean the trailer will.
5) Following distance can be more important than speed. Most people know what the "two second" rule is. (Two seconds need to go by between when the vehicle in front of you passes a point on the road and when you pass the same point.) When you have a trailer, it becomes the "three second" rule if it has brakes, and the "four second" rule if it doesn't.
6) In heavy traffic, it can be very difficult to follow the "three second" rule. When that is the case, it is important to slow down somewhat and watch several vehicles ahead. For example, if three cars up somebody in your lane steps on the brakes, your foot should immediately head for the brake pedal...before you would have put on the brakes without the trailer.
7) Speed can be an all too real killer on steep hills. Going downhill on a narrow winding road is the most stressful conditions you can put on your tow vehicle's steering, transmission, and brakes, and on the trailer's brakes. The only way to reduce that stress is to slow down. It can also be a bit stressful on the driver. Add to that dark of night, rain, or fog and you get the stuff of horror movies.
8) Slick roads (rain, snow, ice, oil, etc.) are a good reason to slow down. In addition, slick roads are a good reason to reduce the gain on the brake controller. Less brakes in slippery conditions? Yes! If the trailer brakes lock up (which is more likely in slick conditions), a jackknife may be the all too dangerous result. By turning down the gain, you turn down the risk of lockup.
Answer thanks to: Austin Boston, PUT Message Board
**********************************************
What is "sway"?
Sway is a condition during towing, where your trailer begins to move side to side (sometimes violently). It can start without warning and if not corrected can lead to an accident Sway is caused by many factors, only one of which is tongue weight. While too little tongue weight can quickly lead to sway, there are other causes. They also include tire pressure, wheelbase of the tow vehicle, weight/mass of the tow vehicle, length of the trailer, weight of the trailer and vehicle speed. Additionally, the loading of the trailer (side to side as well as front to rear) and the type of load, like a half full (am I an optimist?) water tank can be a factor in sway developing. Outside factors also play a part, road type, road condition, weather (wind/rain) and other vehicles around you (semis...). Generally speaking, the longer the wheelbase of the tow vehicle, the less chance for sway. Devices are available to restrict this side to side movement including friction sway control or WD hitches. See the SWAY page for more information.
**********************************************
What is a "Friction Sway Bar"?
It is basically a metal bar which is sandwiched between two other pieces which have a material on them like a brake shoe on a car. One end fastens to a small ball on the A frame of the popup and the other end fastens to a small ball about 6 inches to the left or right of main ball on your receiver. Tightening a bolt between the two outside bars squeezes the inner bar creating a rigid bar that will slide under pressure. The mounting between the A frame and the tow vehicle reduces the ability of the trailer to move side to side and reduces sway. See the SWAY page for pictures of my friction sway bar.
**********************************************
What is a "Weight Distribution Hitch (WDH)"?
A WDH is a hitch that attaches to both the tow vehicle and the trailer utilizing a pair of heavy springs (there are newer single bar models) to remove some of the weight from the hitch, and "distribute" it to the tow vehicle front wheels and to the trailer wheels. Whether you need a WDH depends on both your trailer and your tow vehicle. Check with your vehicle manufacturer as some tow vehicles (mostly unibody) can not handle a WDH due to the torque placed on the vehicle frame/body. Additionally, check with the trailer manufacturer because many light trailers (such as many pop-ups) don't have a strong enough frame for the high leverages and forces involved in a WDH.
**********************************************
How do I weigh my trailer?
The only true way to determine your true tongue weight is to take the trailer (loaded as you would for camping) to a scale and have it weighed. While you can use a scale at a rock pit or trash dump ( or even a bathroom scale for a single tongue weight), these scales usually have only one platform. It is actually best to use a multi platform scale in order to see what your weight is on each axle (1 Steering axle on tow vehicle, 2. rear axle on tow vehicle, 3. trailer axle) as shown in this diagram.

Diagram Copyright © Cat Scale
After you get these three weights, leave the trailer on the scale, but disconnect from the tow vehicle (remember to chock the wheels) and pull it off the scale, leaving your trailer axle on scale #3 and your tongue wheel on scale #2. The weight on scale #2 will be your exact tongue weight.
**********************************************
How high do you set your hitch ball?
First, check the owners manual for your pop-up, it will indicate the correct height that the ball should be when hooked up. These measurements are usually taken to the top of the ball when hitched up. To account for varying heights of tow vehicles and trailer heights, hitch drawbar can be purchased in different heights above and below the hitch receiver. These are known as step up or step down hitches.
Remember to take into account the fact that the rear of the tow vehicle will "squat" under the weight of both the trailer and contents loaded in it.
To calculate the exact draw bar needed you can use this HITCH-WEB DROP/RISE CALCULATION WIZARD.
**********************************************
What air pressure should I keep in the pop-up tires?
First and foremost read and understand your owners manual! With that said, the weight carrying capacity of your tires is computed with the tire inflated to the max pressure. Look on the sidewall of the tire and you will see something like "Capacity 1068 Lbs at 50 PSI". This should be measured COLD (before you tow the trailer) and you should always use a quality pressure gauge to check tire pressure. Automobile manufacturers want you to run a little under inflated to give you that soft comfortable ride, but we want the tires inflated to the maximum to give us the maximum carrying capacity of the tire. Plus, fully inflated the side wall does not flex as much which equals a cooler tire. Under inflating tires cause them to overheat and can lead to blow out. While you are checking the pressure, check the lug nuts too!
**********************************************
How do I change a flat tire?
Changing a tire on a pop up camper is very similar to changing a flat on your car, but there are some differences. I have put together an entire page on Changing a Flat Tire.
**********************************************
Can I tow with my refrigerator running on LP gas?
This is a disputed issue. I have seen./heard opinions on both side of the fence. With that said, I don't do it! I feel the three-way (gas/110v electric/12v electric) refrigerators used on most pop-ups aren't designed to be used on propane while towing. Most manufacturers recommend towing these on the 12 volt setting. Two-way (gas/110v electric) refrigerators are a totally different. By design, they are meant to be used on propane while towing. If you'll read your two-way owner's manual, you'll see safety tips such as turning off the pilot before refueling, etc. The two-ways also have safety features so that if the pilot goes out, the gas supply is turned off. The best advice is to READ YOUR MANUAL! If you have a used camper, or can't find your manual, contact the refrigerator's manufacturer to find out how to get a replacement. If all safety instructions are followed, you should have no problems towing with the fridge on.
Some people have even said that it is a fire hazard while gassing up your tow vehicle. Whatever the case, I don't feel comfortable doing it so I don't. My refrigerator is a 3-way unit (110V/12v/LP Gas) so I tow with it powered by 12v. Just be sure that when you stop to eat, gas etc. that you do not let the vehicle sit too long. Remember when powering by 12v with NO battery, all the power is coming from your tow vehicle starting battery! Check out Lee's page on Isolators and Solenoids to avoid this problem.
**********************************************
Do I need towing mirrors?
If you are asking this question of yourself, you probably do. With the advent of smaller tow vehicles and pop ups with air conditioning on the roof, the view to the rear of many tow vehicles may just be your trailer. If so, you really do need mirrors. Some state do have requirements so be sure to check any states you plan to be towing through. For the safety they provide it will probably be worth the investment. Two basic types are generally available, those that slip over your current mirrors and those that strap onto the top and bottom of the doors with their own "frame" holding them out. Check around and see what best fits your tow vehicle.
**********************************************
What is a "break away switch"?
The break away switch is a device that will engage the trailer brakes should it become disconnected from the tow vehicle. Depending on state (jurisdiction) brakes are required on trailers of differing weights. If you are required to have brakes, you are required to have an operational break away switch. If in doubt, check with your local Department of Motor Vehicles. For more information, see Break Away Switch
Usage Information
**********************************************
Are there safety issues I need to worry about?
Yes. As with any recreation activity you need to worry about basic safety issues such as accidental fires, campfires and first aid just to name a few. As camping may take place away from normal services (i.e. fire departments and rescue services) you should be prepared to take care of many issues yourself for longer periods of time. Take a look at the Campsite Safety Page for more information.
**********************************************
What maintenance is needed by a pop-up?
The basic maintenance is keeping the interior and exterior clean as well as lubrication all moving parts. These moving parts include locks, hinges, lifter poles, pulleys, cables, bed slides, hitch/hitch ball, and many others. The wheel bearings should be serviced at least yearly. When towing, I am in the habit of feeling the wheel bearings each and every time I stop to see if they are hot. At the end of the camping season if you live in an area exposed to freezing temperatures you need to winterize your pop-up. Obviously, after the long cold winter you will need to open the pop up in the spring.
**********************************************
What should I use to clean the plastic windows?
The answer to this one is easy, Plexus! Stay away form the standard grocery store window cleaners, they will begin to dull the windows and can eventually ruin them.
**********************************************
What are the differences between trailer tires and car tires?
They aren't much different in terms of compounds than regular automotive tires. Rot, UV damage, flat spots are of equal concern for any tire regardless of application - difference is in usage/application, construction, and care.
A big difference however lies in construction of the tires. There is a huge difference in the plies and belting of automotive tires versus many trailer tires. There is also a huge difference in trailer tire between manufacturer's and some are just down right garbage!
Another factor is how we care for the tires. Those that are neglected will show it, and those cared for with the wrong products are just as bad as neglected tires!
See the Trailer Tires page for more information
Answer thanks to: Bob Scott, P.E. - Geotechnical Engineer
**********************************************
I have noticed that the tires and metal wheels on my pop up are hot to the touch after a trip going highway speeds. If there is a braking problem, what is the best way to diagnose it?
First, it is normal for the tires, rims, and hubs to be fairly warm after an hour or more at highway speeds. The test for excess heat is "can you hold your hand on the tire, the rim, and the hub?" (as opposed to a quick touch). If not, then there is a problem.
The first possibility, which is the easiest and quickest to fix is to make sure the tire pressure is correct. Tires so need to be checked frequently, at least every month if not used, and at the start of every towing day when used. Don't forget to check the spare. Only check the pressure when the tires have been stationary for at least a few hours and are "cold". As you drive, they will heat and the pressure will rise. This is normal and should not be bled out, but it means readings after being on the highway a while are useless.
Buy a quality pressure gauge (not one of those pencil things) that can read at least 70 PSI and never, ever trust the gauge on the gas station hose.
The second possibility is that the bearings need to be cleaned (and if they are heating up, probably replaced) and re-packed. It is possible that when the hubs were assembled that the bearings were pre-loaded but not un-loaded before completion. This can generate excess heat and wear that will eventually cause the bearings to fail. Again, if the bearings are generating enough heat to cause the outer part of the hub to be too hot to touch, or if they have been discolored by heat, both the bearings and the races need to be replaced.
If there were real problems with the brakes dragging, the hubs would likely be extremely hot after just a few miles (never mind a few hours) and the trailer brakes would quickly become ineffective.
Answer thanks to: Austin Boston, PUT Message Board
**********************************************
When should I repack my wheel bearings?
Your wheel bearings should be inspected and repacked with fresh grease on a regular basis. Due to the speeds attained by our smaller trailer wheels the grease around the bearing heats up quickly. Dexter Axle, the manufacturer of most pop up axles states in their service literature: "Along with bearing adjustment, proper lubrication is essential to the current function and reliability of your trailer axle. Bearings should be lubricated every 12 months or 12,000 miles." I have mine done at the beginning of each camping season. For less than $75 I have a professional repack the bearings and inspect the suspension and brakes.
**********************************************
I see grease on my rim/wheel; is this normal?
Grease on the tire or rim is not a normal situation! It indicates that grease is leaking out of the bearings. If the grease is on the front (outside) of the tire/rim suspect that the dust cap was not properly installed. If the grease is on the back (inside) of the tire/rim suspect the grease seal. In either case do not delay in having it corrected. Loss of a sufficient amount of grease could result in higher bearing temperature, bearing failure or worse!
**********************************************
Do I need to do anything special with the pop-up at the end of the camping season?
If you live in a cold climate, yes, you should winterize your pop-up. This consists of removing or replacing all water in the system to avoid damage to the water pipes should they freeze. You can see specific details on the Winterize Your Pop-Up page.
**********************************************
When should I winterize?
Obviously, the decision to winterize your pop-up is a personal one. If you have no plans for additional camping trips this year, now is the time. Winterizing should be done before the water system is exposed to prolonged freezing temperatures. Think about leaving a cup of water outside during the temperatures you expect to be encountered. Would it freeze solid? Would it get just a skim coating of ice on it? Damage occurs when the water pipes (hoses) freeze solid and thus expand, breaking the pipe (hose). Most pop-up campers have very little exposed outside the interior space. Crawl underneath and take a look at your unit. If it only has a couple of inches of hose going from the water tank to the hole through the floor you should be fairly safe until the exterior of the camper will be exposed to freezing temperatures both day and night for a few days in a row. Remember, this is just my opinion - I recommend you check your owners manual and campers in your area to verify that this information will work in your area.
**********************************************
OK, Where should I park the pop-up on the camp site?
You should park the pop-up in the most level spot that still allows access to the water and electric if provided on the site. Is your hose, electric cord long enough? Check before you unhitch the pop-up. This will save lots of aggravation! Make sure that the spot you pick will not be too close the the fire ring, and you have sufficient room for slide outs and/or awnings. If there is a prevailing wind direction, does it blow toward or away form the pop-up.
**********************************************
My interior lights won't work
If you haven't completely set up (i.e. lifted the sink or pulled out both bunk ends) you probably have a safety switch installed. Almost all pop ups have a safety switch (the most common location is under a flip up sink, but mine is on a bunk end) that keeps you from leaving the lights on when you pop down, which can cause the light to overheat - then cause a fire. The second most common problem is the wiring running up the tenting to the roof. Look around the top of the pop up box on the outside and you will probably find a set of wires coming out of the box and into the tenting running up to the roof. Make sure any connectors in this wire are completely plugged in. After that it is normal troubleshooting like checking fuses and making sure there is 12v coming out of the battery/converter.
**********************************************
Do I need an extension cord or 2 hoses?
Most pop up campers come equipped with a pull out electric cord that is 15 to 25 feet in length. For most campsites this is adequate. In addition you need to supply your own fresh water drinking hose if the campground provides water on the site, as opposed to 1 or 2 water sources placed around the campground. While I only carry a single 25 foot water hose and the standard electric cord that came with my pop up, many people carry 2 or more hoses in varying lengths (say a 25' and a 15') and a proper 30 amp extension cord. The 30 amp extension cord can be expensive but do not try to use a cheap orange cord in it's place. This could be a fire hazard. Remember, we all like large expansive campsites and you will need sufficient hose/electric cord to reach provided utilities.
**********************************************
Is there anything special I need to connect to the campground water system
If the campground supplies water at each site, the first thing you will need is a white drinking water hose of sufficient length to connect to the water tap. Most people carry at least a 25 foot hose and others carry two. It is also recommended that you put a pressure regulator in line between the water tap and the pop-up. Many campgrounds have high water pressure (possibly to be able to service the large number of sites) and a regulator will protect the plumbing in the camper. Another accessory many people use is a 90 degree hose adaptor to take the strain off the hose connected to the water inlet of the camper. There are other items available including in line water filters designed for campers.
**********************************************
What type of hose should I buy?
It is entirely possible that you will need 2 different hoses if you camp on a full serviced site (electric/water/sewer). The most important hose is the one that is going to supply your fresh water. They come in many styles such as flat, coiled or standard. Just make sure that it is rated for drinking water use. This will assure you that you will not get a funny taste from the hose in your water. The second hose would be used (for those pop ups that are equipped for this) to drain your gray water into a campsite sewer system. Se my Gray Water Page for more information on this. Additionally, remember the hoses come in several sizes. The larger the diameter the more water flow you will have. This may not be a problem on the fresh water hose, but too small a hose may cause slow draining on the gray water side.
Remember that anything that is in or gets in the hose fresh water hose will get into your fresh water system. I do several things to avoid problems:
1. When you are done camping, coil the hose from one end draining as much water as possible.
2. When I arrive at my site and am connecting the water, I let fresh water run through the hose for a few minutes to flush the hose BEFORE I hook it up to the pop up.
3. At the beginning of the season and couple of times during the season I sanitize the fresh water hose with a mild bleach solution, similar to sanitizing the fresh water tank.
Remember there are other options for your fresh water such as bringing bottled water and using a water filter.
**********************************************
Wheel chocks, what are the - How many do I need?
Chocks are devices placed in front of and behind a wheel to keep it from rolling. Generally you want 4 chocks for your pop-up (2 for each wheel) which should be placed firmly in front of and behind both wheels BEFORE you disconnect from the tow vehicle. I have read many stories where people forgot to chock the wheels and the pop-up when for a ride by itself.
**********************************************
When setting up, in what order should I do things?
After arrival at the site, these are the most important:
A. Park pop-up on site, making sure to level Side-to-Side (using sturdy blocks or Lynx Levelers under the low wheel).
B. Chock both wheels BEFORE unhitching the pop-up.
C. Lower tongue stand (wheel) and raise off the hitch. (remember to disconnect chains/cables). Move tow vehicle out of the way.
D. Level pop-up front to back using tongue stand (wheel) to raise or lower the front as necessary.
E. Release catches holding top closed.
F. If you have an awning, you may want to set it up at this point
G. Crank top up.*
H. Extend beds and secure.
I. Install door.
J. Lower all stabilizers. This should be done after the top is raised as it may twist or flex the frame otherwise.*
Most everything else is up to you as to what order to do things in. Just remember to have fun!
*On some brands, you lower the stabilizers before raising the roof, please read your owners manual to determine the order for these items for your specific make/model.
**********************************************
Should I fill my water tank at home, or wait until I get to my destination?
Again, this is a personal decision but keep several things in mind. Fresh water weighs around 8 lbs a gallon, so your 10 gallon tank is an extra 80+ lbs you are towing. Additionally, some have reported that the movement of water side to side in the tank can lead to sway of the trailer. If there is water at your destination, why tow the extra weight? Many people tow with a full tank and full hot water heater, but as I said this is a personal decision based on your towing capacity and how much other "stuff" you carry.
**********************************************
How do I fill my water tank?
This will depend on where you are camping. When camping at a campground which has water at each site, filling the tank is not necessary. Just connect your hose (you did get a white hose designed for drinking water, didn't you?) to the city water connection on the side of your pop-up. When camping at a campground which has water available, but not at each site, stop at a water source as you enter the campground and fill up the tank using your hose BEFORE you go to the site to set up the pop-up. This will save you from carrying water to the site in 5 or 7 gallon bottles. When dry camping you can stop at a water source nearest your camping destination and fill up there. This may be a rest stop or some other public facility. We generally just use our 7 gallon bottles to visit a local forest service well and get our water from there. A weekend for us is usually around 25 gallons of water (4 bottles +/-)
**********************************************
How do I fill my Hot Water Heater (HWH) with water?
This is one of those things that seems difficult, but is actually very easy. First you need a source of water; either hook up to the city water connection or fill the on board water tanks and turn on the pump. Now comes the hard part, just open the hot water faucet. The water entering from the water source you selected will displace the air in the HWH and begin to fill. At first air will be expelled from the faucet, then it will spurt water and finally a full stream of water. When you have this full stream of water flowing out of the faucet with only the how water handle turned on, your HWH is as full of water as it should be.
**********************************************
How do I light my Hot Water Heater (HWH)?
As there are several manufacturers of hot water heaters (HWH), read and understand you owners manual. The first thing I want to say is when lighting the HWH it takes a LONG time holding down the pilot button to get gas flow all the way to the HWH.

Now, in case you don't have the instructions, so here goes the general steps:

Turn the HWH gas valve knob to the "Pilot" position, then push this knob in. Gas will NOT flow unless you are holding this down. It is a safety thing.

Wait at least 1 minute, usually 2 and gas will begin to flow. Now try to light it. It will usually take a couple of tries.

After it lights, keep holding the pilot knob down for 20 - 30 seconds. There is a thermocouple which will cut off the gas if it doesn't have time to heat up, again safety.

Now turn it to the ON position. The HWH should now roar to life.

Do not try to be quick about this, it will only frustrate you. Take your time. There is a very small hole that you need to purge all of the air out of the line through before the gas gets to the HWH, that is why it can take a couple of minutes. I find that lighting my stove first helps in getting gas to the HWH heater, but if this helps you will depend on the configuration of your gas pipes
**********************************************
Why is my refrigerator hard to start on LP gas?
Most Rv refrigerators have a button you push down when starting the refrigerator (lighting the pilot flame) on LP Gas. After the pilot ignites you need to keep holding the button down. Above the pilot is a device known as a thermocouple. It slowly heats up from the pilot light and once it reaches temperature it gives off a small electric current that allows gas to continue flowing. If the thermocouple does not reach temperature before you release the button the refrigerator "assumes" that the pilot light has blown out and cuts off the flow of gas. It may seem confusing at first, but it is a safety measure to keep your pop up from filling with gas.
The easiest way to tell if the refrigerator is lit is to feel the chimney where the pilot light is located. Once lit properly and running for a few minutes the chimney will get warm. Chimney not warm, refrigerator is probably not lit.
Unlike a home refrigerator, it takes an RV refrigerator a long time to cool down. It is suggested that you cool it down the day before you leave for a trip. I usually plug my pop up in at the house and cool the refrigerator on electric before we leave for alt least a day, sometimes two.
**********************************************
What do I do with the drain water from my sink (shower)?
In most areas of the country, the water we use for dishwashing or showering is considered waste water or "gray water". It should not be dumped directly on the ground, but disposed of in an environmentally friendly way. This would include capturing it and transporting to a dump station. If dry camping follow the "scout" rules, dig a hole at least 8 inches deep well away from any water (stream, lake, pond....) and dispose of gray water in this hole. Be sure to fill in the hole before you break camp. You can take a look at my Gray Water Tank.
**********************************************
How can I quiet down the water pump?
Water pump noise actually comes from a combination of factors:
Water lines that are not properly secured which vibrate

Water pumps which are mounted directly to wood partitions and vibrate against the wood

The design of the water system - the pump immediately turns on at any request for water
The first two are fairly easy to correct, make sure the water lines are properly secured and mount the pump using some cushioning material between it and the mounting surface. Something I highly recommend is the installation of an "Accumulator Tank". Accumulators tanks reduce pump cycling and eliminate pulsations and water hammer in the pop up water system. After I installed mine, the pump is almost silent
**********************************************
What is the difference between Public and Private campgrounds?
I break campgrounds down into 3 types:
1. Private
2. Public Improved
3. Public Primative
The goal of any private campground is to provide income to the owner. You will usually find smaller sites as the owner tries to pack as may paying guests into the space available. But, you will find may private campgrounds that have added attractions to bring in the crowds. Pools and game rooms are 2 common amenities. Most will offer electric, water and sewer at most sites (for larger motorhomes) with some water/electric sites suitable for pop-ups. There is usually a campground employee on duty to keep an eye on things.
Public improved campgrounds, by their very nature of being publicly owned exist to provide recreation to the citizens of a specific geographic area (county/state/federal). Many will have amenities that rival private campgrounds with the added bonus of larger sites and usually lower cost (as may are taxpayer supported). This is not to say you will not find public campgrounds with small sites and poor conditions. The availability of electric, water and sewer varies by campground and jurisdiction.
Camping in a public primitive area (such as National Forest lands) is considered "Dry Camping", with no available electric, water or sewer. Usually these sites are FREE. This is our preferred method of camping.
**********************************************
Where is the nicest campground?
While the answer to this question will be totally subjective, most people agree that Fort Wilderness at Walt Disney World in Florida sets a standard by which you can judge other campgrounds. Some WDW links include:
Walt Disney World Official Website
Ft. Wilderness FAQ Deb's Unofficial WDW Information Guide-WDWIG
Mousesavers.COM The best deals on all things Disney!
The Dis The Internet's #1 Source of Disney Information!
**********************************************
What can I expect to pay for a campsite?
Prices I have seen (and paid) range from $5.00 a night to over $70,00 a night depending on the location and amenities provided. "Resort" or "Destination" campgrounds like Fort Wilderness at Walt Disney World command premium prices, but usually provide amenities in return. Swimming pools, game rooms arcades, miniature golf, gun ranges and many other activities are provided by some campgrounds. At the other end of the spectrum, National Forest Service primitive campgrounds can be as low as $5.00 a night, but only provide a place to park the pop-up a hand water pump and a pit toilet.
When making reservations be sure to ask what is included in the camp site fee and what is additional. Your nightly fee usually pays for the camp site, parking space for the tow vehicle and allowance for the "family unit" to stay on the site. Ask what the campground defines a family unit as before making reservations. Some are as low as 2 people, and they charge extra for children. Also, many campgrounds have differing prices depending on things such as waterfront, tree shaded, nice view, etc.
Additional fees I have seen some campgrounds charge include:
$X.XX extra for a "premium" camp space
$X.XX per extra person
$X.XX per minute to use the shower
$X.XX per vehicle for extra vehicles
$X.XX per person for "day visitors"
$X.XX for use of a fire ring
$X.XX a day for electricity if you use an air conditioner
$X.XX a day for electricity if you use an electric heater
$X.XX reservation cancellation fee
Never assume something is included in the base price. Always ask!! If you plan to pay by credit card, ask if they take them. Some campgrounds are CASH ONLY. As with everything in life, let the buyer beware.
**********************************************
How do you keep your pop-up cool without A/C?
We have a small oscillating fan to help move the air around when we are dry camping. We usually keep as many windows open as possible as well as trying to camp under trees. When we are in the open we cover the bed ends with reflective covers to keep the heat down. You can make your own coves out of Reflextix, or I would suggest buying bunk end covers that are specifically manufactured for your make and model camper. These are available from Popupgizmos. Other people suggest keeping your window flaps zipped up, except the bed ends, putting a box fan on the bunk you are not sleeping in, up against the screen and pointing out. It will draw air through your screen and across your sleeping bodies, shooting it out the other end. Others, if they do not have an AC installed, install a vent in the ceiling with a 12V fan which draws the air thru the camper.

**********************************************
Do heaters work?
The factory installed propane furnace does a pretty good job of keeping the pop-up warm, but you WILL go through a lot of gas. A normal 3 day weekend with evening temperatures in the 30's or 40's will use a full 20 lb tank of LP gas. If you're camping on an electrical site some people suggest taking along a small electric heater as well ... it will allow you to cycle the furnace off a little more and thereby us less gas. You'll still likely find the bed ends cold, especially at night, since warm air will tend to collect in the main body of the camper. We use a small fan to move the air around the camper. Also you may find yourself taking along more bedding than in summer, and in fact, if you happen to own an electric blanket or mattress cover, it may be nice in the pop-up!
**********************************************
How do I turn on the heater/furnace?
The most common furnace used in pop-up campers is manufactured by Atwood. These use a thermostat similar to that used in homes. There is a slide switch (on-off) on the bottom of the thermostat which can be hard to see. Turn this on.
The blower will come on after a few seconds, and 15 - 20 seconds before the heater attempts to ignite the flame. After the blower comes on, you should hear a distinct click as the furnace igniter tries to light. it will only make 10 attempts then shut down. Many times the 10 attempts does not give sufficient time for gas to flow entirely through the line to the furnace and you may need to cycle (turn off then back on) the heater to give it 10 more tries.
Things to check if the furnace does not come on:
1. Is it turned on? 2. Does the pop-up have electrical power (battery or plugged in)? 3. Is the temperature setting on the thermostat above the current interior temperature? 4. There is a circuit breaker under the front panel of the furnace, is it reset? 5. Did you remember to turn on the LP Gas at the tank?
Further information can be found on the Atwood Mobile Products web site.
**********************************************
How do I level my pop-up?
Leveling your pop-up is actually very simple. Once you select your campsite and maneuver the pop-up to the final location use a level (I use a 6 inch level that I place on the back bumper) to see which side needs to be raised. While some people use a jack to jack up the low side and then push wood under the wheel, I find it easier to pull up onto lynx levelers to raise the side. Once level chock the wheels BEFORE you disconnect from the tow vehicle.

For more information, see my "Level Your Pop Up Page".
**********************************************
Why not use your Stabilizers to Level?
Generally with modern pop up campers, the frame and the stabilizers themselves are not manufacturered to support the weight and stress of the leveling process. Something (either the stabilizers or frame) will eventually fail. With that said, there are stabilizers manufacturered that will support the weight and they were installed on some older pop ups (maybe even some current ones). With correctly designed stabilizers (jacks) and the proper supporting frame you could use them to level the pop up. Read your owners manual, if it advises against this procedure something is not built to support the weight.
**********************************************
Is there a way to convert the power from my 12v battery to 110v to plug an item in?
Yes there is a device called an "Inverter" will convert the 12v DC into 110v AC (house current). They range from small units which plug into a cigarette lighter socket and give you 2 110v AC outlets, up to hard wire units that can supply power to the AC sockets in your pop-up. You do need to keep in mind several issues about their use:
They use a lot of power, you will quickly drain your 12v battery(ies)
Most inverters will not power the types of devices most people want to use (i.e.. electric skillet, crock pot, hair dryer) due to the wattage they deliver. High wattage units are available, but they are expensive!
I usually do not recommend the use of inverters unless you have a specific need (medical device), sufficient on board battery and a way to recharge your battery(ies) and/or use the inverter very little
**********************************************
Should I undercoat my pop up?
YOU DON'T WANT TO UNDERCOAT or PAINT IT!
It's not a Coleman thing, it is a Weyerhaeuser thing! Weyerhaeuser is the manufacturer of the Structurwood.
Before I found my niche in geotechnical engineering, I was a structural engineer that specialized in wood. Trusses, laminated veneer lumber (LVL), glulam, trusses, etc... To put it as simply as I can, Structurwood needs to breath and equally expand and contract on BOTH faces... As much as you are concerned with it absorbing water from splashing while on the road, it is not as much of a problems as moisture trapping in the internal matrix of the composite, which sealing one side would promote... The "glues" used in making the product are very water resilient and wicking action usually just isn't there so splash contact is a negligible problem. Sealing is a problem because you can treat only one side of this product. This seriously impacts how the material can adapt to it's environment and exposure. Note, you can treat it if BOTH sides are done the same way, but you obviously can't do the topside in a pop up... Don't be fooled either, your vinyl floor is not glued down (i.e., sealing the top), it's a floater. Also, the flooring incorporates a cushion layer (i.e., this is why they're called laminate flooring) that allows the subfloor to breath...
Answer thanks to: Bob Scott, P.E. - Geotechnical Engineer
Weyerhaeuser Company RV Web Page
Now, obviously opinions are going to differ. So, you can believe what Bob says or not. It's your trailer so do what you think is best. I for one never touched mine on the Santa Fe and towed through some nasty storms, rain, sleet & snow. I looked at the bottom before I traded it and the wood looked the same as the day I bought it.
**********************************************
Why do we have condensation on the inside canvas over our bed ?
Depending on the temperature and humidity, this can be a common occurrence.
The breath you exhale is heavy with moisture and it is this moisture that is condensing on the underside of the tenting due to a temperature difference between the moist air and the tenting.
Simple solutions include opening a window slightly to allow an exchange of air and a small fan to move the air around inside the pop up.
As this water is not leaking through the roof, but is condensing on the underside so the use of a water repellant is not going to help.
**********************************************
How much weight scan a pop up bunk hold?
This is a question that really should be answered by an owners manual as each make and model is different. Let it suffice to say that they will hold hundreds of pounds. The lightest weight rating I have seen is 750 pounds, and many go to over 1000. Try not to worry, looks are often deceiving and a slender support member properly designed can have substantial strength.
**********************************************
How do I fix a crack/hole in my ABS plastic?
Rather than act like I'm an expert, or plagiarize someone else's work, the best information I have found on repairing ABS plastic is on the apachepopups.net website. Here is a direct link to ABS Repair made easy!
LP Gas Information
**********************************************
What is LP Gas?
Liquefied petroleum gas is a petroleum product separated out of natural gas and crude oil in the refining process. It looks and acts just like water, except for its boiling point. The boiling of liquefied petroleum gas produces a "steam" of a colorless, odorless flammable gas.
An odorant, usually ethyl mercaptan, is added to propane as a warning agent. This sulfur compound gives the gas its rotten egg odor.
Extreme caution must be observed in the handling of LP Gas!
**********************************************
There are three LP gas pressures available:
Tank pressure...several hundred psi

High pressure...approx 13 psi

Low pressure....less than 1 psi, approx 11 inches of water column.
Any propane device designed for using in inhabitable enclosed space has to be low pressure. High pressure is used for "outside devices" mainly barbeques and outdoor gas grills. Tank pressure is what is inside any propane container, be it a 20 pound cylinder, a 1 pound or 14 ounce cylinder. All the same and need some kind of regulation before using.
The easiest way to tell what available for use on your trailer is to look at the regulator on your tongue mounted propane cylinder. If there is only one line coming off the regulator you have only low pressure available whether it's inside or outside. Common with in/out stoves. If there are tow separate lines coming off different sections of the regulator, then the low pressure side goes into the trailer and the high pressure line goes to an outside connection.
Heaters, since they normally run off a 14 ounce or 1 pound cylinder have a built in regulator inside the unit. While the vast majority of heaters use low pressure, there are a few designed for strictly outdoor use that will use high pressure, but they are few and far between. The problem comes in with using double regulation. The low pressure regulator on the trailer and the internal regulator on the heater. Some units will not work with double regulation and others will. It's not by brand, more likely by the regulator. We seen some of every brand not work this way. Note that most of the manufacturers recommend when using an add-on connector to connect to a large cylinder like our normal 20 pounders that a T be placed in the line ahead of the tank regulator and a true tank pressure hose run to the heater. Also with outside gas grill using the small bottles and a high pressure connection will sometimes fail to operate again due to double regulation.
**********************************************
Should I buy an LP Gas Tank Gauge?
In your tank there will be liquid on the bottom and pressurized gas on the top. As you use the gas more liquid turns to gas until the liquid is depleted. When this happens, the tank pressure drops off quickly. For this reason, pressure gauges are usually inaccurate. Other types of LP gas tank "gages" include a long narrow strip that is attached to the side of the tank (magnetic or glue). This strip has a chemical coating which senses the temperature change from the liquid level to the gas. Many times you need to pour water on these gauges to activate them.
I have not personally seen an accurate LP Gas Tank gauge.
**********************************************
How do I know how much gas is in my tank?
On the top of the LP Gas tank, stamped in the metal will be the Tare (EMPTY ) Weight, it will be written something like "TW = 18"
So, 18 pounds is the Tare, or EMPTY weight. Anything above 18 is LP Gas.
A full tank holds 20 pounds of LP Gas.
If your weight is 23 pounds it is easy to figure, (23 - 18 = 5) you know you have 5 pounds of LP, or 1/4 tank.
**********************************************
Is there a need to have a second LP Gas Tank?
I do believe in having a second tank around. During summer months I keep a full one in the garage to swap out when the one on the pop-up gets low. During the winter I carry the second tank while camping because it can get mighty cold if you run out of gas and it's 40 outside. It is possible to get an automatic changeover regulator which will switch to a second tank when the first one is empty. Also, you may already have a second tank attached to your gas grill!
**********************************************
Should I just exchange my empty tank for a full one (WalMart, K-Mart) or would it be better to have my tank filled by a gas company that specializes in gas?
I personally have my tanks re-filled, because at most places I go to it is cheaper. For a fill I pay between $11 - $13, while an exchange is around $16. If you do exchange, make sure if you turn in an OPD tank that you get an OPD in return!
**********************************************
What is an OPD LP Gas Tank?
OPD stands for Overfill Prevention Device. As of April 1, 2002, no LP gas cylinder can be filled unless it is equipped with an (OPD).
You can identify an OPD tank by looking at the valve handles, all the new ones are shaped like a triangle.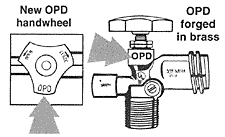 So, as of April 1, 2002, no new valve, no fill. I still see a lot of these old valves floating around. Don't confuse the threads on the tank (old style vs. new style) valve with OPD. The OPD device is INSIDE the tank. It will require a complete replacement of the valve to bring it up to specs. Just my opinion, but it's cheaper to buy a new tank than to try to retrofit With a new tank only $23 - $27 at Sam's or BJ's, valve replacement is probably not worth it.
Just remember, the old tank is considered haz-mat and must be disposed of properly.
But...
There may be some untrained employees who fill tanks that do not know about OPD and will fill an old tank. Remember this is a life safety issue. While you might think you are getting a "deal" in more gas, you do not want an overfilled tank next to your trailer. If that over-full tank begins to warm up in the sun, it may begin to vent gas. If there is a source of ignition nearby this could lead to a disaster.
For more information on OPD valves Illinois Propane Gas Association OPD Page.

**********************************************
What an LP Gas Flow Limiting Device?
1998, a modified Type one cylinder connection was introduced to RV's. The main modification was to increase the flow rate allowed through the pigtail to meet the RV's typically higher BTU demand, but additionally there were two new safety features incorporated.
These included a bushing inside the the connection that will melt in a fire to shut of the flow of gas in the event of a fire as well as a "flow-limiting device," and its purpose is to restrict the flow of escaping gas if there is an excessive leak in the RV's gas system. If you are having problems with your LP Gas appliances such as no gas flow to system, low gas flow, low or yellow flame at burner, check out the detailed information on my LP Gas Safety Features Web Page.
Extra Camping "Stuff"
**********************************************
What is a "Dutch Oven"?
A Dutch Oven is a cast iron pot designed to be used over a campfire (coals) with a flat top that allows you to place coals on top as well as below. Just about anything you cook in a regular oven-pies, bread, stew--can be whipped up in a Dutch oven. Here are a couple of links to check out for Dutch Oven cooking.
The International Dutch Oven Society
Cooking for Scouts and Scouters - Dutch Oven Cooking

**********************************************
What is "Dry Camping"?
The term "dry camping" refers to camping without utility hookups. Your pop-up must be self supporting. You use your battery(ies) for electric and bring water to the camper in bottles as needed. Dry camping can take place in either a developed campground which does not have utility hookups or in a remote area such as a National Forest.
We do most of our camping "dry" in National Forest areas. You need to worry about your LP gas supply, water supply and electricity.
I'll address the LP gas first. Using it for just hot water, refrigerator and cooking, During warmer months you shouldn't need to worry about a second tank for periods up to around a week. When the weather begins to turn cold and you run the furnace, then you may want a second tank along.
As to the electricity, your battery will be powering your fan, lights, water pump and any other 12v electric item You will probably only get 2 to 3 days out of a single battery. Most Pop-ups are supplied with 1 Group 24 battery which will give you 70 - 85 amp hours. I recommend getting a second battery if you are going to go the "dry" route most of the time. If you have space, go for a Group 27 RV deep cycle (not deep cycle/starting marine) batteries. The Group 27 will supply 85 - 105 amp hours.
How long will they last?, You could sit with pencil & paper, figuring the draw of all of your items, compared with the amp hours available in your battery(ies), but this would never be exact due to the many variables (how long/how many lights are on, how long you use the water pump and so on. What I would suggest is setting your pop-upas you intend to use it and then going to a campground that supplies electric for 3 - 4 days. Do not plug in, just run off battery. See how you do for 4 days.
Some Suggestions:
1. Get a meter - keep an eye on your batteries. Don't get a simple "red/yellow/green" OK/BAD meter, but one that will give you an exact voltage. I took a $20 meter from Radio Shack, cut off the probe ends and added a 1/4" plug that plugs into the 12v power jacks on the lights in my Coleman. This lets me keep an eye on my powere usage.
2. If you are not using it, turn it off.
3. Read Mark Nemeth's web site on his camping adventures. Mark is living in his TT, and has an excellent web site devoted to RV's. Check out the pages on "the 12 volt side of life".
**********************************************
What is "Quiet Time" ?
This is the time of day that noise (talking, music etc.) should be turned down or stopped altogether so that other campers may go to sleep. Unnecessary outside lights and large campfires should be dimmed or turned off completely. In most campgrounds quiet time starts between 9PM and 11PM and goes until at least 7AM.
**********************************************
What other common rules should we follow?
First, everyone goes camping to have a good time. Treat everyone like you would like to be treated. Some common complaints from campers include:
Respect the space of others:. Don't take a shortcut to the bathhouse and cut through someone's campsite. Additionally keep your camping "stuff" confined to your campsite.
Loud radios and TV sets. Many people go camping for the peace and quiet. While your collection of polka tunes is wonderful, not everyone has this level of sophistication in their taste. Try to keep the volume on these devices low enough that it does not disturb neighbors.
Car alarms. Not everyone likes to hear the setting and unsetting (beep - beep) of a car alarm. Try to limit their use. Also, if you set it remember to turn it off before you open the door.
Pets. Should you decide to bring a pet camping you need to take care of them. Clean up after they do their "business" and keep them occupied. Do not leave them unattended while you go off for a few hours. Remember not everyone likes to hear the sound of a barking dog.
Generators: The sound of a running generator can disturb the peace and quiet of a campground. If at all possible avoid their use. If you must use them, restrict their use to the minimum amount of time necessary.
Uncontrolled children: Everyone understand that kids go camping to have a good time. Teach you children to respect the privacy and property of others.
**********************************************
What is "Reflectix Insulation?
From the Reflectix web site: "Reflectix® is a 5/16" thick, seven layer, reflective insulation which is available in rolls of various widths and lengths. Two outer layers of aluminum foil reflect 97% of radiant heat" It is used by the owners of some pop-up campers on the top (exterior) of the bed ends to reflect light and heat to keep the pop-up cooler during summer use. It is unfortunate that it is not available in a width to cover the entire bed end and because of this it must be spliced to cover the end. Most users add grommets to the corners to allow it to be tied into place. A standard roll of reflectix of sufficient size for a pop-up is around $50 (with lots left over). It is available from most home improvement stores (Home Depot/Lowe's).
Other options include Mylar "space emergency blankets", which while highly reflective but are thin and susceptible to tearing and holes. Some people use silver or gray tarps which are heavy duty, but are not as reflective.
A couple of years ago custom made reflective covers exactly sized to the make/model of your pop up became available. I held out for a while, continuing to use other things but
then gave up and purchased them. They are made by Popupgizmos and I must say they work great. They are an exact custom fit for your pop up and keep the bunk ends nice and cool. he photo to the right shows our Popupgizmos in use. Just clip them on the top of the bunk ends (and the slide out in our case) before you pop all the way up. It helps keep the pop up cool
**********************************************
What is a hobo pie maker?
These are square cast iron cookers which are used to make pies in the campfire.. You add buttered bread on the outside and pie filling in the middle, close the iron like a clamshell, then cook in the fire. For a more detailed description and recipes, check out Campertime's Hobo Pie Page
**********************************************
What are "Tacky Lights"?
These are the lights pop-up owners feel compelled to hang from their awning. Most select light shapes which indicate the owners hobbies or interests. They are available at most RV stores as well as Wal-Mart, target and many other fine stores. When buying lights, be sure to purchase those rated for outdoor use. Using good manners, you should turn off your lights when "quiet time" starts.
**********************************************
What is an "Add A Room (AAR)"?
This is a set of screen/canvas panels which attach to the awing on the pop-up to form a room outside the camper door. They are available in several styles including all screen or canvas half way up with screen above. Depending on manufacturer they can be one large panel or several smaller ones that attach together with zippers and Velcro. Most uses say that the multi panel AAR is easier to put up.
**********************************************
Should I keep a trailer log or journal?
Many pop-up campers (that's the people, not the vehicle) maintain a log to record their miles and memories of the camping experience. These range from plain paged blank book, to custom designed and bound camping log book. We keep our to record miles driven, places visited and to remind us of places we liked and those to avoid the next time. For areas we plan on returning to we rate campsites, note the location of water faucets and any other information we may need later.
**********************************************
Can I burn pressure treated (PT) wood in my campfire?
In a word, NO. PT wood is used for it's resistance to insects and decay, but it gets these properties through the use of modern science. It contains arsenic as well as insecticides, fungicides and solvents. When burned these are released into the air in the smoke. It is not fit for man nor beast!
**********************************************
What is a pit/vault toilet?
Pit toilets and vault toilets are different terms for the same thing; basically a concrete pit over which a toilet structure is built. In years past this would have been called an outhouse.
Generally chemicals are added to the vault/pit to eliminate odors and speed breakdown of the contents. Regular pumping also helps in keeping down the odors.
**********************************************

These FAQs are being updated regularly, and I am typing as fast as I can. Check back often.