Some Things To Keep In Mind
Travel on Forest Service roads is not the same as the interstate. Many are single lane and contain numerous pot holes. Keep it slow.
When camping during hunting season, remember to wear blaze orange colored clothing if hiking out of sight of roads and campgrounds. Collars and "dog vests" are also available for your camping pets. Hunting is legal in most National Forests.
While you will see Forest Rangers patrolling in the forest, you will still be on your own most of the time. Make sure you have a first aid kit and an emergency plan.
Campfires
Fire is a real danger in some areas of the country. Be prepared and have all required implements on hand. Some areas require that a shovel and rake be available at all times. Also, if a campfire permit is required, order one or stop by the ranger station on the way Other things you may want to have available are 2 buckets, one with sand or clean dirt and one for water.


L.P. Gas Usage
Obviously, how much LP gas you use will depend on many factors; LP gas appliances you use, air temperature, length of stay..... We have a hot water heater, furnace, 3 way refrigerator and 2 LP gas stoves. During fall and early spring camping with temperatures into the 20's at night we will go through a 20# tank in about 2 days. Obviously the big user of LP gas is the furnace followed by the hot water heater. The more you limit the use of these devices the more you will extend you stay. We have 3 20# tanks and during cold weather always start with 2 full tanks.
Electric Usage
Without an electrical hookup, you need to be careful with amount of electrical devices you use. You would probably be smart to restrict your use to lights, furnace blower and water pump. I went so far as to replace one of the power hungry incandescent light fixtures with a 12v DC fluorescent fixture. Additionally, low power consuming LED lights and fixtures are available like MoonBeam Lights. You may also want to think about adding an additional battery. Additionally, having a battery meter is also a good thing to have with you. We get 4 - 5 days out of the 2 batteries we have, but battery charge cable will extend the camping time available to you.
Waste Disposal
Remember to pack out everything you bring in, there is no trash service in the forest. What you may think is biodegradable (paper cups/plates) may actually take months or years to degrade, take them with you. When using biodegradable cleaning products remember to follow Forest Service guidelines:
A. Do not set up camp closer than 100 feet to a water source, like a stream or pond.
B. Do not wash anything directly in a water source. Someone downstream may be drinking the water.
C. Bury all waste in "cat holes", at least 8 inches deep.
I use a 50 foot hose connected to our pop up sink drain, angling it away from the water source (take this into consideration when aligning your pop up on the site. The end of the hose goes in an 8 - 12 inch deep hole. At the end of the trip the hole is filled back in.
We use a Thetford Porta Potti instead of digging "cat holes" for the human waste. As there are no dump stations in the forest you will need to dispose of the potti contents. We usually dump it at one of the vault toilets at day use facilities or bring it home and dump it there. With the chemicals used in a porta potti - do not dump this into a "cat hole", dispose of it properly.
For more information on biodegradable products, visit: WorldWise, a company dealing in biodegradable products.
RESPECT PRIVATE LAND
The land ownership patterns around National Forest lands are patchy, with Forest lands intermingled with private land. If you see "No Trespassing" signs, please respect the lands of private owners. When hunting or hiking on National Forests, know . If you aren't sure where the boundaries are between government and private land, purchase a map of the area from a local Forest Service Office.
Forest Service Fee Demonstration Project Information
National Park Service Demonstration Project Information
In order to fund ongoing operations at specific National Forests, the Forest Service has instituted a national pilot project to charge fees for certain recreation uses of federal land. Use fees have been implemented at several National Forests requiring an annual or day-use tag for specific use. Uses included in some areas are horse and bicycle use, trail head parking, ATV/OHV use and or camping. Most of the income collected from these fees remain with the National Forest where collected to maintain, improve and enhance visitor services.
Remember, when camping Leave No Trace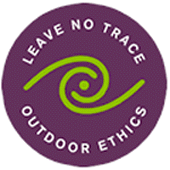 Principles of Leave No Trace
Plan Ahead and Prepare
Travel and Camp on Durable Surfaces
Dispose of Waste Properly
Leave What You Find
Minimize Campfire Impacts
Respect Wildlife
Be Considerate of Other Visitors