Towing and Hitch Information
Please check the towing limits of your vehicle and always stay within those limits! Read and understand your owners manual and any additional trailering supplements provided to you. FAILURE TO HEED WARNINGS AND FOLLOW INSTRUCTIONS MAY RESULT IN VEHICLE CRASH, PROPERTY DAMAGE AND PERSONAL INJURY.
One of the most confusing areas for anyone considering a new pop-up is the aspect of "what can I tow, and which hitch should I purchase?". Before you go any further, get your vehicle owners manual, and determine what your limits are. Easier said than done! As towing capacities of vehicles are based on several factors including the vehicle frame type (unibody or frame), engine, transmission, rear end gear ratio, tires/load range, engine cooling capacity, transmission cooling capacity, alternator capacity as well as several other things. Woe is the camper who went out and purchased a pop-up without reviewing what their tow vehicle weight ratings were. The deal you find on a pop-up can quickly fade when you find out you need a new tow vehicle to move it!
Check with your manufacturer to see if they have a separate towing manual. Many do not include all towing information in the standard manual. It will probably take less than an hour, but with the manual and probably a few trips to the car/truck to read equipment stickers you will be able to determine the following:
Base Curb Weight
This is the weight of the vehicle including fluids (fuel, coolant, lubricants) and any standard equipment installed by the factory. It does not include passengers, cargo, dealer or aftermarket installed equipment. (see UVWR)
Gross Vehicle Weight

(GVW)

This is base curb weight plus passengers, cargo, dealer or aftermarket installed equipment. GVW is not a limit or specification, it is merely the weight of your vehicle at a given point in time. Note, when a trailer is attached this weight would be PLUS the tongue weight.
Gross Vehicle Weight Rating

(GVWR)

This is the maximum total weight the vehicle was designed to carry.
Gross Axle Weight Rating

(GAWR)

This is the carrying capacity for each axle system (this would include the tires, suspension components and the axle). You will usually find that the rear axle has a higher GAWR than the front. Do NOT make the mistake of adding your 2 GAWR and thinking that this is what your vehicle will carry. See GVWR, which will usually be lower than the sum of the 2 GAWR.
Gross Combined Weight Rating

(GCWR)

This is the maximum combined weight of both the towing vehicle (including cargo & passengers) as well as the trailer (including all trailer cargo)
Maximum Trailer Weight
The maximum weight of a trailer the loaded vehicle is permitted to tow. Subtract the weight of the loaded vehicle from the GCWR
Gross Trailer Weight

(GTW)

Weight of Trailer Fully Loaded
Tongue Weight

(TW)

The downward force, or weight exerted by trailer coupler on hitch ball
Unloaded Vehicle Weight Rating

(UVWR)

This is the weight of the vehicle (usually a trailer) including fluids (fuel, coolant, lubricants) and any standard equipment installed by the factory. It does not include passengers, cargo, dealer or aftermarket installed equipment. (see Base Curb Weight)
Unloaded Tongue Weight
The downward force, or weight exerted by trailer coupler on hitch ball of an unloaded trailer including any standard equipment installed by the factory. It does not include cargo, dealer or aftermarket installed equipment.
Cargo Carrying Capacity

(CCC)

This is the weight of cargo, dealer or aftermarket installed equipment you can carry. Subtract UVRW from GVWR to determine CCC
Next, was your vehicle equipped with a factory tow package? What is included in a tow package differs between manufacturers, but many include: heavy-duty brakes, heavy duty suspension, higher capacity engine cooling, an auxiliary transmission fluid cooler, a larger battery, a higher output alternator and a full-size spare tire.
Trailer hitches utilized for pop-up campers generally come in two different styles, Weight Carrying (WC) and Weight Distribution (WD). The type of hitch purchased for you particular situation will depend on several factors including
1. The tow vehicle and its towing capacities

2. The trailer being towed

3. Vehicle manufacturer specifications. On certain vehicle, they will provide 2 sets of specifications, 1 for a WC hitch, and 1 for a WD. Read your owners manual carefully The "fine print" note(s) about trailering may indicate using a weight distributing (WD) hitch for trailers weights above a certain weight (like1,000 lbs.), and it may require WD for trailer weights above a second threshold (like 2,000 lbs).

Do NOT assume the person trying to sell you a pop-up will know the limitations of your vehicle. Remember what their job is in this situation!
Weight Carrying (WC)
The WC hitch is a simple device which supports the entire TW. In this type of installation the entire TW is supported by the rear axle of the towing vehilce.
Weight Distribution (WD)
Rather than merely supporting the trailer tongue weight (TW), weight distributing hitches apply leverage between the towing vehicle and trailer causing the TW to be carried by all axles of the tow vehicle and trailer. When TW is distributed in this way, trailers with greater TWs can be towed, resulting in a more level ride which reduces stress on the rear of the tow vehicle and provides greater steering and brake control. A weight-distributing system includes a receiver attached to the tow vehicle, a removable hitch head and spring bar assembly that fits into the receiver opening and hook-up brackets that connect the spring bars to the trailer frame. Due to the mechanical forces exerted upon the vehicle structure by a WD hitch it can NOT be used on all vehicles. Verify with your owners manual or manufacturer that a WD hitch is approved for your vehicle!
NOTE: AIR SPRINGS, AIR SHOCKS AND OVERLOAD SPRINGS: While these devices help the tow vehicle's rear suspension support trailer tongue weight as well as the weight of passengers and luggage. They are not substitutes for weight-distributing hitches, since they do not re-distribute load to other axles.
Hitch Classes
Class II

WC GTW - Up to 3,500 lbs

WC TW - Up to 350 lbs

Class III

WC GTW - Up to 5,000 lbs

WC TW - Up to 500 lbs

Class IV

WC GTW - Up to 7,500 Lbs

WC TW - Up to 750 Lbs

WD GTW - Up to 12,000 Lbs

WD TW - Up to 1,200 Lbs
Some things to keep in mind
Remember, your vehicle braking system is designed to stop the vehicle itself! When towing you are adding a substantial weight (mass) to the rear of your vehicle which also must be stopped. If your manufacturer has an option for brakes (electric or surge) if at all possible they should be included in your camper purchase.
All of these ratings and specifications are important in their own way. You do not want to exceed any of them!
If you change any vehicle equipment (like new tires) your ratings can change. Always review equipment/tire purchases with an eye toward how it will affect you tow ratings.
Weight Carrying Hitches and Tongue Weight
Courtesy of "crewzer"
Remember that the trailer's tongue weight will become cargo weight of the towing vehicle once it is attached. For example, if your van weighs 4,700 lbs loaded, but without the trailer, and trailer weighs 2,000 lbs loaded and has a 300 lb tongue weight, then the van will weigh 5,000 lbs, and the trailer 1,700, after they're hooked up (assuming a weight carrying hitch, of course).
Dropping a dead weight trailer tongue load onto a tow vehicle results in an even higher load being added to the back axle and a correspondingly reduced load on the front axle. The exact amounts are mathematically determined by the wheelbase and the rear overhang.

A simple example of a using a tow vehicle with a 9 foot wheelbase and a 3 foot overhang results in the following:

Tongue weight: 240 lbs
Rear Axle load: 240* (WB +OH)/WB = 240*(9+3)/9 = 240*1.33 = 320 lbs
Front Axle load: 240*OH/(-WB) = 240*3/(-9) = 240*(-0.33) = -80 lbs
Check: 240 = 320 – 80
Trailer Sway and Trailer Weight
Trailer sway can be a problem when towing. Maintaining proper tongue weight (~10-15% of trailer weight) goes a long way in minimizing sway problems. As you add weight to the trailer in front of the axle, the tongue weight will increase (but not at a 1:1 ratio). The closer the weight is to the tongue, the higher the weight ratio on the tongue will be. As an example, a battery or LP gas bottle mounted directly on the tongue will have almost all of its weight on the tongue (a very small amount will be carried on the trailer axle). Contents carried inside the trailer, in front of or over the axle will have most of its weight on the axle, with a small amount added to the tongue weight. Contents carried inside the trailer, behind the axle will have most of its weight on the axle, but will have the opposite effect of DECREASING the tongue weight. The axle acts as a pivot point as you load the trailer.
With that said, remember you want 10 - 15% of the trailers weight on the tongue to reduce "sway" while you are towing.
The only true way to determine your true tongue weight is to take the trailer (loaded as you would for camping) to a scale and have it weighed. While you can use a scale at a rock pit or trash dump ( or even a bathroom scale for a single tongue weight), these scales usually have only one platform. It is actually best to use a multi platform scale in order to see what your weight is on each axle (1 Steering axle on tow vehicle, 2. rear axle on tow vehicle, 3. trailer axle) as shown in this diagram.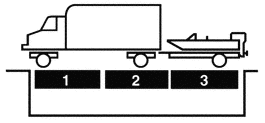 Diagram Copyright © Cat Scale
After you get these three weights, leave the trailer on the scale, but disconnect from the tow vehicle (remember to chock the wheels) and pull it off the scale, leaving your trailer axle on scale #3 and your tongue wheel on scale #2. The weight on scale #2 will be your exact tongue weight.
However, if you do experience sway problems, you may need to consider a sway control device. See a competent RV or hitch dealer.
Again, my thanks to "crewzer" on the Pop-Up-Times message boards for the idea, basis and some content as well as proofreading for this page.
| | | | |
| --- | --- | --- | --- |
| Draw-Tite Homepage | Reese Homepage | Goodyear | CAT Scales |
| | | | |
Revised: May 08, 2007