Campsite Safety
Safety is something we take seriously around our campsite! While our Santa Fe came equipped with an LP Gas detector, we added both a smoke detector as well as a carbon monoxide detector. Find out where the nearest hospital or emergency clinic is located, and make sure you carry insurance cards and any other information that may be needed by a new doctor.
Establish and review an emergency procedure for your family, in the event that bad weather strikes, you become separated when hiking or someone is injured. Make a list of emergency/Ranger phone #'s when checking into a campground. Ask where the local hospital is, storm shelter, etc.
Fire Extinguisher
To meet RV industry safety standards, all campers are equipped with a fire extinguisher, but it is usually small, and almost useless. Additionally in a fire it may be difficult to find and/or get to. So we have a large industrial extinguisher which is kept outside (under a bed end). In an emergency we know where it is and it is large enough to do some good. Inspect your fire extinguisher regularly. A good quality extinguisher, that is maintained can hold a charge for many years. For maintenance: twice a year, 1) take it out of the bracket and hold it upside down from how it's mounted and shake it for about a minute to loosen the powder inside. The powder settles during travel and may become so compacted over time it may not work when you need it; and 2) it should be visually inspected for damage, dents, and signs of leakage (like seeing white powder around the nozzle), if it has a button or a gauge to indicate if it's fully charged, check it often. If the dial/gauge is in the bad/discharged position you need to have it serviced and/or replaced. Most small fire extinguisher which are shipped with RV's have plastic parts which prevent re-use, so you will need to replace it with a similar make/model for the bracket to work. Look in the yellow pages for fire equipment companies and look for listings for fire extinguisher service. Most large cities have several companies which service the fire extinguishers in commercial and industrial buildings.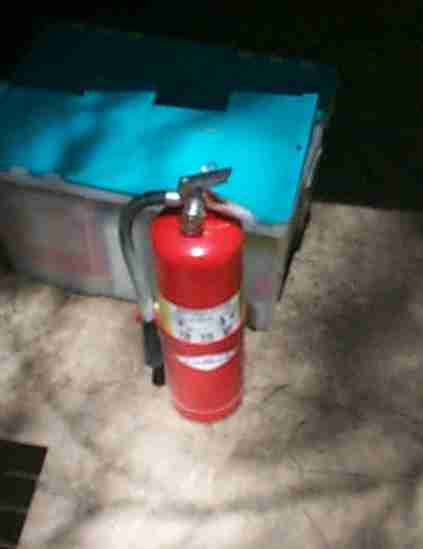 ABC extinguisher's are labeled as all purpose (with the exception of metal fires) but one weakness of them is that their Class A rating (wood,paper,ect) is somewhat misleading. Class A Fires are extinguished by cooling them to a temperature that the fire is stopped. In my experience, ABC extinguishers lack the ability to effectively cool some fires. People are often injured by extinguishing a fuel/grease fire with an ABC extinguisher, turning their back, and the fire re-ignites due to heat that is still present. This being said, I'm going to leave everyone with a few safety tips when dealing with extinguishers.

1. NEVER turn your back on a fire.
2. As you begin to flow your extinguisher, continue to close the gap between yourself and the fire. Fire extinguishers are for CLOSE RANGE firefighting.
3. Realize, that if the fire is large, DO NOT try to put it out yourself. Call 911 and move everyone to safety. Possessions are replaceable, lives are not. Extinguishers were designed for incipient (beginning phase) fires, not those well involved.
4. Always make sure you are using the APPROPRIATE extinguisher for your fire.
Acronym for using and extinguisher
P= PULL the pin
A= AIM as the base of the fire
S= SQUEEZE the handle
S= SWEEP the stream back and forth on the base of the fire.
Most importantly, realize that most fire's are avoidable. The majority are started by poor housekeeping, unsuitable wiring, gas leaks, etc. Safety is PARAMOUNT in all areas of life.
While talking about fire extinguishers, it's probably a good time to talk about fire safety. I'm sure we all have a fire plan at home (like exits and where we should meet), well when camping it should be the same. In our campers we need to have similar plans. Know where the emergency exits are. Don't think that just because the pop-up is small, you will be able to get to the door in a fire. In some campers, the bunk end window screens zip open, while in other campers, the body of the tenting has an emergency zipper. Make sure everyone, including guests know where the exits are and how to use them! Have a pre-arranged plan as to where everyone should meet - away from the camper, remember there are lots of flammable items (LP gas, Coleman fuel, charcoal lighter, butane lighters...) in and around the camper. Move away!
All modern campers equipped with a LP gas cooking system is required to have an LP gas detector/alarm. You may want to consider adding a smoke detector and a carbon monoxide detector. These can easily be attached to the ceiling of the pop-up using velcro patches.
Campfires
Remove all tripping hazards around or near the fire ring. Before leaving camp, make sure you have extinguished your campfire completely! Do not let the fire smolder, pour water on it and make sure it is DEAD OUT! I have found a good source of water for this to be the melted ice in my cooler. Additionally, if small children are present make sure they are supervised around the fire! You may want to draw a circle around the fire ring which children are not allowed to cross. Never use gasoline or lantern (Coleman) fuel to start a fire. Only use charcoal lighter on cold dead fires.
L.P. Gas
What is LP Gas? As was mentioned above, All modern campers equipped with a LP gas system. Extreme caution must be observed in the handling of LP Gas! As most Pop Up manufacturers place both the LP Gas tank and the 12v battery in proximity to each other on the trailer tongue care should be used in any situation in which the battery may "spark". This could include connecting/disconnecting the battery wires as well as connecting an external battery charging source. If there is any chance of LP Gas vapor (did you just change the tank and some gas vented?) being present DO NOT do anything that may cause a spark until the gas has had time to dissipate.
Campsite Electrical Systems

Inspect all plug ends and the condition of your shore power cord, tacky lights, extension cords, etc. for damaged insulation. Test your Ground Fault Interrupter (GFI) circuits for proper operation.

Check campsite electric before starting to setup. Polarity checkers are available for about $3-$5 at Lowe's or Home Depot. You can move to another site before you get all set up and find your electric is not functional. This could save you from ruining your A/C, fridge, TV, etc.

First Aid Kit
Always, always have a first aid kit. We have yet to go on a campout that we did not need the first aid kit. Sometimes it was only for a scraped knee, but better to have it and not need it, than need it and not have it. Some suggestions might include: Band-Aids, alcohol swabs, and triple antibiotic ointment (these three in a sandwich-size zipper bag comprise a mini first aid kit), Benadryl liquid and tablets, child and adult Tylenol and ibuprofen, child and adult cold medicine (day and night versions), Tums, Caladryl Clear (anti-itch lotion), nail clippers, tweezers, and digital fever thermometer. If you go anywhere in the woods and are allergic to bees or other toxins see your doctor and get a "sting kit" or "Epi-Pen". Remember you may be an hour or more from medical help and will need to provide services to those camping with you.
Pre made kits are available for Adventure Medical and other manufacturers. These can be purchased from retailers like the Pop Up Times web store, Cabella's or Sierra Trading Post.
Even with a pre-made kit, you will probably need to add items specific to your family. Additionally, many items in first aid kits have expiration dates on them. Make sure the medications you carry are current.
Children
Just as at home, you must keep the campsite clear of any hazards to children. Keep butane lighters out of kids reach, as well as sharp knives, and especially watch the pot handles when cooking. These are things we probably all think about at home, but sometimes when we are camping, and especially because the tables are shorter, we drop our guard.
Be careful of children climbing on lawn chairs. These chairs turn over backwards very easily.
You may want to think about basic guidelines for kids while camping. Some examples are:
1) Don't walk through anyone else's site
2) Don't accept an invitation to anyone else's site unless I am with you
3) Don't go to the campground bathrooms alone
4) Don't pet the nice kitty with the black stripe up her back!
5) No dirty shoes on the bunks!
6) Don't touch the poison ivy!
7) No food on the bunks!
Flares, Cones and Triangles
These items that should be STANDARD EQUIPMENT in your tow vehicle. (It is in mine.) Should you break down and are unable to pull sufficiently and safely off the roadway, you need to warn oncoming traffic of the danger for your safety as well as the safety of others.
If you decide to carry flares (also know as railway flares) understand that flares can be VERY Dangerous. They work fantastic but are made primarily of phosphorus, Sulfur and wax. They are like a gigantic match the does not go out.
Always follow the instructions of the manufacturer but here are some things to keep in mind:
1. If the flare has a wire stand to stand it up on the roadway, open it and adjust it PRIOR to lighting the flare. If it has a spike, jab it into pavement or soil PRIOR to lighting.
2. When lighting a flare, ALWAYS hold it facing DOWN. When it lights it will begin to DRIP MOLTEN PHOSPHORUS. Set it down quickly.
3. Never kick a flare into the ditch to put it out. That can result in molten phosphorus splattering you or other persons or possibly cause a grass fire.
4. NEVER use a flare when you suspect gasoline fumes in the area. That is when the triangles or cones are to be used.
To put out a flare either drop it into a container of water or snuff it out like a cigarette butt.
My thanks go out to startx, germanbrave, pat, PALOMINO GUY, CampHost, Safari7, mediccamper, Fairview2001 and MrGadget on the Pop-Up-Times web board for content on this page.
If you have any suggestions, let me know: Webmaster
Revised: May 08, 2007