Bike Rack
All photos are thumbnails, click on a picture to see a larger version
As luck would have it I wandered into our local Camping World store just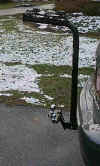 looking to see what was around. They were in the process of moving displays around and things were in disarray. I found a 3 bike Swagman Bike Rack leaning in the corner which had obviously been an old display model. I asked the manager the price, knowing full well that with the locking knobs it was over $100. He looked at it and said, I'll make you a deal, how about $60. Sold!
The model I got has the base configured as a "sleeve" which fits over our

existing 2" drawbar. Once in place it is secured with 3 bolts, two from the bottom and one from the side. This keeps it from sliding on the drawbar. It only needs about 3 inches of clearance between the receiver and ball. My luck, only 2 inches.
Well I stopped by my dealer and showed them the bike rack and asked how much to get a longer drawbar. $30 for the longer drawbar, but for $55 they would just make up a new longer drawbar unit with 2" ball, sway plate & ball. Again, sold.
So now I have 2 complete drawbar units, one with a bike rack installed and

one without. Depending on our plans for the trip I just choose which one I want.