FAQ Page

Guest Book
Natasha Pages:


About Natasha


Natasha Pictures


How Could You?


Doggie Dictionary


Camping With Your Dog

Camp Site Pages:


Our Trips


Fort Wilderness


DC Camping
Camper Pages:


Our Camper


Tow Vehicle


Site Statistics
Modification & Service:


Detachable Power Cable


Modified Drawers


Mirror


Single Drain System


Drill Lift System


LED Light System


Accumulator Tank


Florescent Light


Bike Rack


Outside Shower


Batteries in a PU


Bed End Tray


Battery Charge Cable


Stove Counter


AC Brace


WH Wind Guard


RV Plug @ Home


Awning Base


12v Power Adaptor


Battery Meter


Water Level Indicator


Tongue Jack Service


Our Bunk

Information:


Camping With Your Dog


Camping Checklist


Dry Camping


Pop Up Brakes


Break Away Switch


Campsite Safety


Towing & Hitch Info


Sway Information


Gray Water


Porta Potti


RV Air Conditioning


Pop Up Tires


Changing a Flat Tire


Pop Up Refrigerator


Camp Site Power


Trailer Dolly


Folding Camp Table


Awning Base


Level Your PopUp


Winterize Your PopUp


Spring Set Up


Camp Cooking Accessories


Buying a Used PopUp


Message Board Shorthand
Camping Links:


PopUpTimes


Camping Links


Camping Club Links


Manufacturer Links
GSD Links:


MidAtlantic GS Rescue


GS Rescue of LA


Virginia GS Rescue


Flying Dog Press
Air Conditioning
Do I need A/C on my pop up? This is a common question, and the answer is is a personal choice. A/C is not a necessity, but is a comfort item. Depending on where you live it may be unnecessary to have one, or it may almost be a necessity. Pop-Up campers in the northern states or Canada may not need an air conditioner, but a Texas or Florida camper would probably look strangely at any one with out AC. Even when we lived in Maryland and camping in the Mid-Atlantic area I am glad I got an air conditioner.
The standard A/C for a pop up is the roof mounted, with a duct that enters through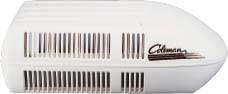 the roof. This duct generally is the same 14" square that may be used for a fan/vent, so if you have a vent you are already half way to an A/C unit. Inside the pop up there is a ceiling assembly that houses the vents and controls. There are 3 primary manufacturers of A/C units for pop ups, Duo-Therm, Carrier and Coleman. The low level RV A/C starts at 7,000 BTU and goes up to a 15,000 BTU unit. Remember, the pop up has little or no insulation, so don't automatically think to get the smallest A/C unit.
Other options for A/C in a pop up are installing a "window style" home A/C, either through one of the pop ups walls or building a brace to allow it to blow through an open tenting window. Recently, portable air conditioning units on wheels have come into the market place. These use a flexible duct to move the cooled air where you want it. Two things to keep in mind if considering one of these options is:
Where is the "conditioned" air directed. A window style A/C cut into the box low to the floor may have difficulty getting cool air into the bunk ends.
Make sure the A/C will cool the pop up. Remember, R/V A/C units start at 7,000 BTU and go up from there. That should be your starting point when looking at other A/C options.
Following the insulation thought, if you are going to camp in an open area during summer months you may want to think about covering the bed ends with a reflective covering (like reflectix) while camping. This will reduce the interior heat and allow your AC to work more efficiently.
An option available for most R/V air conditioners is a heat strip. This is an electrical resistance heater installed inside the ducts in the ceiling assembly to take the edge off a cold morning. In my opinion it is a nice option to have, but in almost all cases should not be considered a replacement for a furnace.
Air Conditioning Filter
Just like your air conditioner at home, the A/C filter on the pop up must be cleaned on a regular basis. I have found that with Natasha along, this cleaning is after every trip that we use the A/C.
As I have a Coleman Mach Air Conditioner, I will detail the cleaning procedure for that model. If you have one from another manufacturer, break out the owners manual and find out how to clean the filter.
All photos are thumbnails, click to see an enlarged version

To clean the A/C filter you must first get the filter out. On the Coleman Mach, you have to remove the 2 control knobs as well as the 2 Phillips screws on the bottom of the unit. The control knobs just pull off. Once you have them off, remove the 2 screws and drop down the A/C cover. Note it will drop at an angle to account for the control knob shafts protruding from the front of the unit.

Once you get the cover down, flip it over. On both sides you will find filters which are held in place by 2 metal clips each. Pull straight up on these clips to remove them. Any twisting can chip/break the plastic. Once you have the clips off the filters can be removed for cleaning. I use a vacuum cleaner, but be careful not to damage the filter. To replace everything, just reverse the procedures. Good luck.
Revised: May 08, 2007